I started playing disc golf in 2010, and since then I've played 2 rounds of golf (ball). It's not because I don't like golf – in fact I've been golfing since I was only a few years old and it runs in the family. My uncle has won over 100 tournaments. My mom was on the New Brunswick Ladies Amateur Team more than 10 times and also won the NB & PEI Ladies Amateur title. My grandfather had 3 hole in ones and shot his age multiple times when he was in his 80's. My sister has won the NB Provincial title twice and been on the Provincial team 10 times total (2 juniors and 8 amateur teams).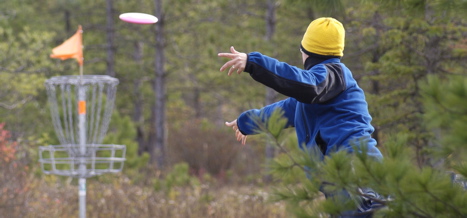 I love golf. Which by extension means I love disc golf too because in many ways it's the same sport, but instead of hitting a ball into a hole, you throw a disc into a basket. No, the reason I barely play golf anymore is because in many ways, disc golf is a better form of golf. It's not just my opinion; below are 7 reasons why disc golf is better than ball golf all based on facts:
1. It's faster
Since holes in disc golf are shorter than holes in ball golf (300 feet compared to 300 yards), it takes less time to play 18 holes. On average, with a group of 4 players, you can expect to take around 4 hours for a round of 18 holes in golf whereas in disc golf, you take an average of 2 hours. This means that you get to play more in the same amount of time.
2. No tee times
Since disc golf is a less popular sport, the disc golf courses aren't run the same way as golf courses are, which means no tee times. If it's nice out, you can show up and play. If it's raining and you don't want to play, just stay home.
3. No green fees (or much lower fees)
Since most courses don't have a marshal and you don't have to book a tee time, that means you don't have to pay a green fee either, although some courses do charge $5-$10 per round now. Also, many disc golf courses are installed in city parks which means all of the upkeep and maintenance is taken care of by the city.
4. Easier to learn
Since you hold the disc with your hand instead of holding a club and then trying to hit a ball, there is less learning involved which means you can get started with less learning in disc golf and you can also improve more quickly since you can play more golf in the same amount of time (see #1).
5. Equipment costs less
In golf, you can expect to pay anywhere from $250 to a few thousand dollars for a set of golf clubs. In disc golf, starter packs cost around $60. As an ongoing cost, the most you can expect to pay for a disc is around $25 and in golf, you can easily spend $300 or $400 on a new putter or driver. The maximum number of clubs in golf you can carry is 14 and in disc golf there is no limit although most players carry between 15 and 20.
6. Building a course is cheaper and easier
Developing and building a golf course can cost millions of dollars and take between one and two years. A disc golf course can be installed in an already existing city park and so the only cost are the baskets, tee pads (if you so choose to install them) and signage. The PDGA estimates a disc golf course costs roughly $20,000 to be installed (source), depending on the amount of landscaping needed.
7. You can play in the snow
Unlike hitting a golf ball, throwing a disc in the snow is much more practical. There is still the risk of losing a disc once it gets buried underneath the snow but the solution is to tape a ribbon to the bottom of the disc so even if it is a foot under snow, the ribbon will be sticking out. For those of us living somewhere that gets snow 6-7 months of the year, this is good news since playing a sport you love is more fun when you can do it all the time.
If you haven't heard of disc golf, haven't tried it, or want to get into it, I recommend installing the UDisc app. It includes a course directory, a scorecard, a throw measurement tool, a listing of upcoming events, and a live app that tracks tournaments in real-time.
You can also find out more about disc golf on the Professional Disc Golf Association (PDGA) website. They govern the sport, have an online course directory, a rules test you can take, and a membership program (which is required for some tournaments).
There are many places to buy discs both online and in store but if you're in Calgary, I would recommend LifeSport, Limber Disc Golf.
It's a great sport so give it a try!