By Colin McPhail, The Bugle Observer
At 18, Rob McLeod was a freshman at the University of Alberta and living about an hour outside Edmonton with his aunt and uncle. After an active childhood, he was stuck in no man's land, an athlete without a sport. Looking for exercise and not finding joy in running, he picked up an old Frisbee and marched outside to the large field behind the house. There were no lines, no boards, no nets and no instruction.
There were no rules; there was just a kid, a disc and some open space.
In 2000, Rob McLeod starting throwing and never stopped.
Thirteen years later, McLeod, now 31, was at Woodstock Centennial Elementary School in January, patrolling a gym full of students, paired off in teams of two, chucking Frisbees at one another.
The kids had one task: "Create a throw," McLeod said.
It was organized chaos as two dozen raucous children were having the time of their lives finding a silly way to pass the disc to their partner.
There was no right or wrong method, just pumping hearts and smiling faces.
The simplicity of the Frisbee opens an endless world of fun and activity.
It's just up the thrower's imagination, and that's exactly how McLeod sculpted a path to a spot in the 2014 Guinness World Records book while becoming a five-time world champion in the disc sports niche.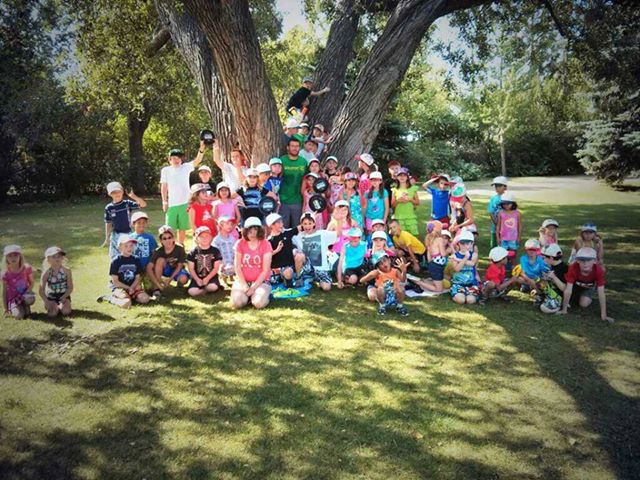 McLeod, who grew up in Woodstock, recalled his first experience with disc sports occurred in high school, when a teacher introduced ultimate Frisbee to his class.
It was intriguing at first, but he didn't give it much thought, opting to focus on traditional sports, like hockey. He eventually taught himself how to throw using various grips in that field in Alberta. There was YouTube or online source for visual instruction at the time, so it became trial and error, a time for creativity. He would step into his laboratory behind the house and experiment. Next came distance. It took him about six throws to reach the end of the field, tossing it, walking over to it and tossing it again before turning around trying to beat his record.
He moved closer to home after his mother died and it became too expensive to live out West. He transferred to Dalhousie University in Halifax and tried out for an ultimate team, twice. He was cut both times.
"I remember the coach telling me after one of the times I got cut, 'You're not tall enough, so you'll have to get better at throwing,'" McLeod said. "And that really ignited the fire for me to get better at throwing."
As much as he enjoyed ultimate, it was constricting in the way traditional sports can be. With its defined playing area, rules and regulations, the possibilities are endless. McLeod began seeking out other opportunities, such as disc golf. He and his friends would throw all over the Halifax Commons and then in Calgary after he finished school, but he began overshooting the holes — the average length at about 400 feet — in a single throw.
"I thought it was just a natural progression, but there was no one in Calgary that could do that and I thought it was neat that I could throw this far," he said.
He began travelling for individual and team sports, meeting the right people and deciding to see how far he could he take his abilities.
"When I found out about all these sports and about the history of Frisbee, it didn't surprise that I hadn't heard about it," he said.
"I felt like I needed to expose other people to this because there's something more."
McLeod, who was accustomed to sports with well-defined skills and limits, entered a world that was of his own making.
He could trace back the history of what's been done with a Frisbee and plot out the future.
It's something he often does with some of the top athletes and pioneers in the sport.
He continually sought out the next challenge, collecting five world records in the process.
In a 13-month span beginning in January 2012, McLeod knocked over the most drink cans hit with a flying disc in one minute and achieved the longest flying disc throw caught by a dog, a whippet named Davy.
He also picked up a trio of records while on ice skates: flying disc throw run catch, flying disc maximum time aloft and flying disc self-caught flight. Setting flying disc records on ice, a shimmering example of McLeod's boundless world.
In the meantime, he tacked on five world championships and 12 flying disc records for good measure.
His feats earned him some fame as he became an international leader in disc sports — so much so a Chinese television show flew him across the planet for an on-air demonstration.
It took some adjusting, however. With fame, and even power to some extent, comes with responsibility, and he understands it now.
He first realized the effect he had on some people when he missed an opportunity to bond with a friend's son. It never occurred to him he could be an idol in a child's eyes.
Now, he's uplifting to all children who come to him to chat about their favourite sport.
"I think it's one of those things where they come to you looking for affirmation that what they're doing is cool or okay," he said.
"You just have to have that perception of what they need in the moment instead of just dismissing them."
With his new-found celebrity and pledge to expose disc sports, McLeod set out on a campaign across the country, speaking to young students about Frisbee and the lessons he's learned.
"I didn't get here because I was lucky," he said. "I got here because I worked at it and because I worked, there were opportunities that came about and I took advantage of those opportunities."
While disc sports have soared in popularity in the American college circuit, there's still plenty of room to grow in Canada.
"I think we need to give opportunities that can bring a lot of people in," he said. "For example, a kid can't say 'I want to go bobsledding tonight' and then do it. Frisbee is extremely accessible in that way."
"If I remember my teacher throwing a Frisbee had that impact on me, then hopefully I can have that same impact on somebody else."
The most important lesson he passes on, however, is simple, tried and true: love what you do and have fun doing it.
He added to his point by citing a New Zealand school that abolished all playground rules.
"Basically, kids are just running around sporadically — it's crazy."
"But there's no injuries, there's no bullying because we're letting kids play again," McLeod said.
"I think just putting a Frisbee in a kid's hand and saying, 'Create a throw,' those are the things that will get them thinking differently."
And that's what it's all about for him. Whether it's a child lacing up hockey skates for the first time or a child throwing a Frisbee at the edge of a field, it's about finding a passion and chasing it unconditionally.
Original article posted at https://www.telegraphjournal.com/bugle-observer/story/36287042.