Lara Sorensen loves her dogs. They would be part of her family even if they didn't keep winning competitions and setting world records. "My dogs are my family, my hobby, my friends," she said. "Because of them, I have friends around the world."
Lara and her partner, Brent Bard, live in the County of Thorhild with their canine family. Lara's love of dogs is why she lives on a farm—there is lots of room for them to run and play. Originally from Edmonton, she never had a dog when she was a child. As a young adult, she had friends in the Alberta Ballet. When they went on tour, she cared for their dogs. Her first dog was Jake, an 18 month old rescued Dalmatian. "He started it all for me," said Sorensen. They worked together on obedience and agility, then started Road Trialing. The next step was playing Flyball, then entering a Quad Run competition. It is a relay race with four dogs, each with its own handler. Sorensen's Blaze, a Jack Russel dog, is the #1 point holder in the North American Flyball Association (NAFA). At 13, he still races, although he is getting close to retirement.
Skull, Lara's microdog (under 16″ tall) competed at the 2012 World Skyhoundz Championships in Freestyle. Like most of his friends on the farm, his name falls into the Pirate theme. "All these events are for fun," said Sorensen. "There are no cash prizes. It's purely for the love of the sports, seeing my dogs do well." Her dogs love to play. She begins by training them at eight weeks old—teaching manners, obedience and re-calls. "A lot of it is creating drive, teaching them to want to do it," she said. Some dogs catch on in a week, others take a year. "I'm asking them to offer me a behaviour," she said. "I'm not telling them to do it; they're wanting to do it. All my dogs have jobs. Every one works for their meal." She encourages them to use their brains. The old dogs learn new tricks as well as teach the pups desired behaviours.
Sometimes they do even more. When Pyrat, at eight weeks old, was caught by a coyote, Sorensen's old Dalmatian bit the coyote. It dropped the puppy and ran off, but Sorensen couldn't find Pyrat. He had rolled under a bush, and that's where he spent the night.
For playing Flyball, Sorensen moved away from Dalmatians and got Border Collies and Border Collie crosses. "I always wanted a Whippet; Flyball is all about speed," said Sorensen. "They're not an easy breed to train." It took a few years of searching, but she finally found her dream dog in New York. Davy (as in Davy Jones' Locker) Whippet came to Thorhild in 2009 when he was eight weeks old. That was also the year Sorensen began playing Frisbee with her dogs. "Frisbee was suggested by a friend from Lethbridge," she said. "I never did anything like this."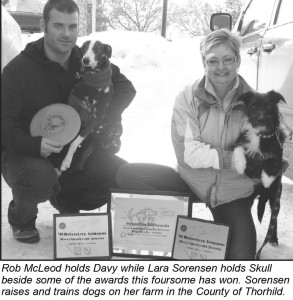 A friend from Ontario taught them the basics, and Sorensen started throwing discs for her dogs. It's not as easy as it looks. She was looking for someone to teach her to throw better when she met Rob McLeod at an indoor competition in Calgary in March 2011. They met again in August, and McLeod became Davy's thrower. He has the arm to match Davy's incredible speed, and together they have set several world records. McLeod started throwing discs in 2000 and played Ultimate Frisbee for 10 years. He has a couple of bronze medals from Canadian Ultimate Championships and is a professional Disc Golf competitor. In January 2012, he set the Guinness World Record for the "Most Drink Cans Hit in One Minute with a Flying Disc". In February 2013, he set another 3 Guinness World Records on ice during the Silver Skate Festival at Hawrelak Park in Edmonton, Alberta. Those 3 records were for self-caught flight on skates, maximum time aloft and throw skate catch. "I didn't even know about dog Frisbee," he said. "I never knew about Whippets. Now they are my favorite breed." Davy did not immediately realize McLeod was his new throwing partner. "My first throw, he caught it but ran to her (Sorensen)," said McLeod. It didn't take long to sort that out. The following month McLeod and Davy drove to Houston and set their first Skyhoundz world record, a 276 foot distance catch. "Her job's to have the dogs ready," said McLeod. "My job's to have my arm ready."
In October 2012, on the Thorhild Central School grounds, Davy became the first dog to catch a disc thrown over 400 feet. He holds the Guinness World Record with a catch of 134 yards (402 feet). The previous record of 130 yards was set in 1994.
McLeod advocates getting out and playing Frisbee with or without a canine partner. "Frisbee is the most simple thing you can do," he said. "It's fun. It's all about playing, getting out and being active." For McLeod, Davy is a special friend. While McLeod might take a few years off his own sports competitions, he can not do that with Davy because Davy only has eight or nine years to compete, and he is already four. "He's an amazing dog," said McLeod. "The amount of effort he puts into it makes me want to do better. He's 100 percent running or 100 percent sleeping." "He's not a pet," added Sorensen. "He's like a little human with four legs."
She enjoys holding demonstrations and showing people what they can do with their dogs. "I love teaching people how to play with their dogs," she said. "They form a close bond. They want to stay with you. It's a relationship. They have good and bad days."
Originally posted February 1, 2013 on http://cowleynewspapers.com/farm-n-friends.