Of all the questions I get asked, this one comes up the most. I have several ways I answer this question, depending on how much time I have, the age of my audience, and what feels right in the moment.
My three main answers to this question are:
To make my mom proud
The Frisbee
The Frisbee Family
1. To Make My Mom Proud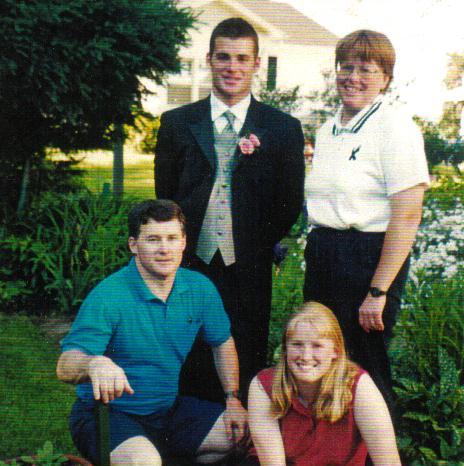 The first reason I love frisbee so much is because of my mom. She was a huge supporter of my sports my entire life. She passed away in 2001 and frisbee is the only sport she didn't get to watch me play. Missing her and trying to work through my grief is one of the reasons I spent so much time alone throwing a frisbee. So often when I'm competing or going after a record, I think about her and hope that she's proud of what I've been able to do and the way I've done it. She continues to guide me and through her, I want to not only be the best athlete possible, but most importantly, the best person possible.
2. The Frisbee
The second reason I love the sport of frisbee so much is because of the frisbee itself.
I've always loved throwing things and growing up I played as many sports as possible including throwing sports like baseball and football. I would also spend hours throwing a football with my friend Simon, seeing how far we could throw it until our arm was ready to fall off. Later on in high school, as a member of the track & field team, I competed in shotput and discus, which was about pure distance throwing. It was through all of those sports that I developed the mechanics and the skill to throw well and throw far/hard.
When I bought my first frisbee in Sept 2000 at the University of Alberta, I would spend hours in the horse pasture behind my aunt & uncle's house exploring, learning, and teaching myself how to throw. This was before Youtube and all I had as a resource was a website that explained a few grips for the various throws in frisbee. Those first 8 months during my first year university is where I fell in love with throwing, with the pure joy of discovery, and that was the beginning of my journey into the world of disc sports.
The two most important places in my frisbee journey were the horse pasture in Alberta, Canada (below)
And Wickwire Field at Dalhousie University in Nova Scotia, Canada, where I spent many hours throwing on my own, playing catch with friends, and playing ultimate frisbee. I got to spend time at Wickwire during my most recent trip home (video below)
3. The Frisbee Family
The third reason I love frisbee so much is the same reason many people say that they love their sport/activity – the community.
I've been fortunate to not only be part of many great ultimate teams and disc sport communities throughout Canada and all over the world, but I've also been able to meet, interview, and grow close with many of the innovators of frisbee including Dan "Stork" Roddick, John Kirkland, Jim Palmeri, Don Cain, Tita Ugalde, and many many others. I have included a few of my favourite interviews below and I will continue to profile the people who have made an impact in the sport, in my life, and in my life in the sport.
I have created a playlist featuring all of the interviews I've done so far – more to be added as they happen.
Now that you know why I love frisbee, I ask you – What's the reason you love what you do?
---
This is the second question in my newly created series titled "Young Disc-Coverers: A Frisbee Q&A With Kids". If you have a question or know a kid who has a question, please share it with me on my socials or using the form below.